Hi Everybody,
My older brother Spot is napping after his acupuncture treatment for his arthritis (he's almost 13 or 14… we think), but wow is he smart and soooo cool. He's the confident, good looking one on the right in the picture btw, I totally want to be him someday…
Anyway, that's the reason I am writing this article instead of him. Normally he is the one that does the talking for us, I prefer to stand behind him and keep a vigilant eye on things… just to make sure no one moves too fast or does something scary. While I can't exactly remember why, I know when I was little, before I met my mom, it was important to look out for those things. Don't worry though, I asked Spot what he thought of our new toys, so I could include his opinion in this review as well.
We are reviewing Tuffy Toys, the Tuffy T-Rex Dinosaur Dog Toy and the Tuffy Pterodactyl Dino Dog Toy to be exact. My mom and dad bought them for us about 10 days ago, and I am pretty excited to tell you about them (I even added some pictures and video below as well).
The Tuffy T-Rex Dinosaur Dog Toy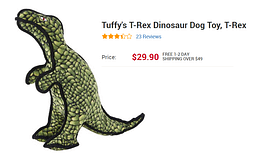 First, this thing is still (mostly) intact… its been 10 days, and I've played with it for at least an hour every day! Normally, I can destroy these things in minutes… but, so far, I'm still trying (although, I think I am making progress). It squeaks… which makes it so much more fun, because then I get to try to find the squeaker and tear it out. In my T-Rex it has been harder to find than in most other toys, so it took me over an hour to get out the only one that I have been able to thus far. THAT was fun… But yeah, I've gutted one of the squeakers, I whipped it around the house, and I've been sitting on the couch gnawing on this thing's head for the last half hour… and still it seems to hold together. At this point after 10 days, I've gotten it down to about 75%. Also, this thing is pretty big, and I just like to carry it around. Ah… I do love my new T-Rex… although I will still try to destroy it.
The Tuffy Pterodactyl Dino Dog Toy
Technically, this one is Spot's. But… I do try to steal it when he isn't looking. Although when he notices, he then just walks over calmly and gives me that look that says, "Tulip… you're better than that….", and of course, I give it back. Spot likes his Pterodactyl too. He only plays with it about an hour a day (sometimes a little less), and while he gnaws on it sometimes, he also carries it around the house with him. He knocks things over with it as he strolls through the living room, my mom thinks it is funny. Because like my T-Rex, his dino is pretty big as well. Spot also likes to take it into his crate with him at night and lay on it while he sleeps. Old dogs… right? I mean throw that thing around Spot, tear into it… I do try to help him destroy it when he leaves it alone… but even with my efforts added in, this dino still remains mostly intact as well. So now almost ten days later, this is still Spot's favorite toy.
All in all, these toys have lasted a lot longer than most of the others we have ever had. And I just love them both. My mom's favorite movie is Jurassic Park… maybe love of dinosaurs runs in the family?
Anyway, I hope my review helped you. I know it was short, but hopefully also sweet. I'm glad my brother was asleep so I had to write it, I think it is good for me… My parent's have me working on being more sociable to other dogs and humans, and I think this helps.
I definitely recommend these toys, I think most dogs would enjoy them for a long time. I'm off to play with mine now.
And hopefully, Spot's too.
Enjoy Our Content? Sign up to get updates on our latest articles, products and more.
Or share us on Facebook or Follow us on Instagram below.